Autumn House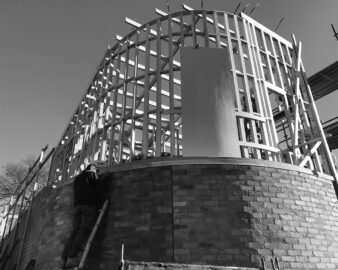 Autumn House
Autumn House
Project info:
This project, an extension to a Victorian terrace with a 1980's renovation by architect Mick Jörgensen and a mature elm tree in the backyard, in effect adds a careful layer stitched into and around these constraints. The existing house, with its Jorgensen addition sensitively restored and the main entry made operable again, now holds bedrooms and an informal living area. Wrapping the southernmost edge of site and negotiating the tree, the existing building, and pushing right to the rear of site, the new work forms a series of curving and angled moves at ground level that holds the new living, kitchen and dining spaces and an activity space at the front of site.
Overlooking the courtyard and now receiving northern light, this new living space is anchored to site with a brick wall that extends right to the front of the site and wraps this new activity space. All thresholds to the courtyards and outdoor spaces are porous and defined by operable glazed doors and windows. By contrast, upstairs and defining the exterior expression is a delicate wedge-like structure that supports climbing planters and a slim garden. Enclosed by this garden framework is the main bedroom, ensuite and then a roof top deck. And from the laneway below, this second level reads almost like a hedge – a garden offering for the lane and neighbours.
---
Jury comment for the 2022 Houses Awards: Australian House of the Year:
"Autumn House is a superbly executed update to a Victorian terraced house in Melbourne's north. The design grapples with many of the problems that constrain alterations and additions to terraced houses and succeeds in establishing outlook, private outdoor space and a generosity to the public realm in a densely populated inner-suburban setting."
"Autumn House's multiple successes in this year's awards testify to the comprehensive design thinking that underpins the project. The jury admired the richness evident in every room, the successful integration of house and garden, and the respect shown for layers of history. This house is a stand-out example of what can be achieved in the imaginative reworking of the humble terraced house, and it is deservingly named 2022 Australian House of the Year."
Jury comment for the 2022 Victorian Architecture Awards: Residential Architecture – Houses (Alterations & Additions):
"Autumn House presents a carefully considered negotiation across different scales, weaving together distinct architectural histories and suburban streetscapes, with great attention given to the tactility of materials.
Deliberate moves have been made to honour both the original Victorian terrace and the later Jorgenson extension, while still allowing Studio Bright's addition to breathe a new vitality into the family home.
Materials have been pushed, tested and sculpted establishing a contemporary language of domestic ornamentation and dedication to craft."
Jury comment for the 2022 National Architecture Award for Residential Architecture – Houses (Alterations and Additions):
"A wonderful example of the care that went into this work is the shower curtain, hand-sewn by architect Maia Close after a suitable one could not be found. This is a project that successfully marries the old and the not-so-old, presenting an exciting vision for the continuing reinvention of the humble terrace. In a classic Melbourne sporting analogy, Studio Bright is a football team on song."
Jury comment for the 2022 Dulux Colour Awards: Single Residential Interior:
"The disparate built elements have a cohesive yet subtly distinct palette for each period: neutrals in the period rooms, playful greens and natural materials in the first extension, and warm pinks with earthy hues that reflect the seasonally changing landscape in the contemporary addition. Bathrooms of sea blue and mint green are calming stand-alone sanctuaries. Extending the respective palettes to joinery and furniture throughout, the varied tones, textures and touchpoints combine to create an immersive, sensory experience."
Year Built:

2021

Type:

Residential

Country:

Wurundjeri

Photographer:

Rory Gardiner
Awards:

2022 National Architecture Awards - Residential Architecture – Houses (Alterations and Additions) : National Award

2022 Victorian Architecture Awards - Residential Architecture - Alterations and Additions : Winner

2022 Victorian Architecture Awards - Colorbond Award for Steel Architecture : Winner

2022 Houses Awards - Australian House of the Year : Winner

2022 Houses Awards - House Alteration and Addition over 200 m² : Winner

2022 Houses Awards - Garden or Landscape : Winner

2022 Houses Awards - House in a Heritage Context : Joint Winner

2022 Dulux Colour Awards - Residential Interior : Commendation

2022 Dulux Colour Awards - Single Residential Exterior : Commendation

2022 Australian Interior Design Awards - Residential Design : Commendation

2023 Grand Designs Australia House of the Year Awards - Large Renovation : Winner
Back to Top