8 Yard House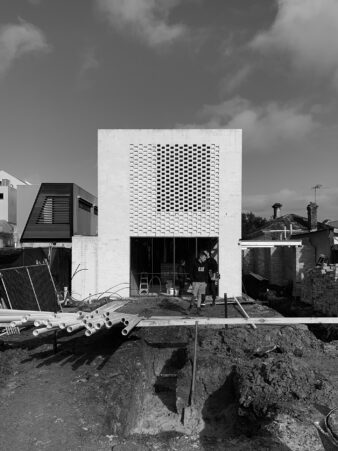 8 Yard House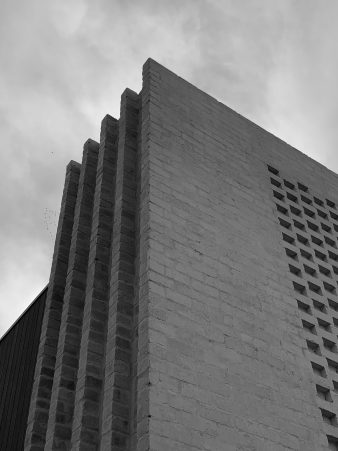 8 Yard House
8 Yard House
Project info:
A new house for a large family located on a double-fronted site in North Fitzroy with heritage overlay reflects Studio Bright's ongoing desire to make adaptable family houses that connect as much as possible with the outdoors. And so rather than have one singular backyard and the bulk of the house as one mass, the planning and spaces are distributed along the length of site punctuated with a series of variously sized outdoor courtyards. To capture northern light, the living and dining spaces run along the southern edge of site with a main bedroom with its own courtyard bookending the front of site and a studio apartment at the rear. Aligning with the heritage requirements and urban grain, the front elevation follows the rhythm of the street and presents as two elements – a singular façade of perforated brick and then the entry point and windows.
Across the whole site are eight outdoor spaces, with the largest between the studio, garage and the main volume of the house.  Centrally located, a pool becomes another landscape area either to use or to look across. Outdoor dining areas and a BBQ court run adjacent to the pool and also off the central living areas. On the upper level is a roof garden with deep planter boxes and views overlooking the street and then minimally sized children's bedrooms with study daybeds in a corridor with a double screen layer of planter boxes and privacy screens. Overall, the architectural form is defined by an almost monumental brick construction detailed with perforations, rhythmic built-in columns and planter boxes, while at the upper level and in contrast to the brick, a finely detailed blue-grey aluminum is used for the screens and planter supports.
---
Jury comment for the 2021 Victorian Architecture Awards: The Harold Desbrowe-Annear Award for Residential Architecture – Houses (New):
"8 Yard House presents a charming choreography of garden and interior spaces, distributed across a double-width site in North Fitzroy."
"The mediation between yard and house is varied, but always clearly resolved and finely detailed."
"The jury was thoroughly impressed by the depth of design thinking evidenced, and its effective translation into a built form that celebrates everyday family life."
Jury comment for the 2021 Houses Awards: New House over 200m2: Joint Winner:
"Carefully detailed brickwork and relationships between the house and its courtyards, which are distributed along the length of the site, bring a looseness to the otherwise solid brick enclosure and restrained material palette. An unusual spatial richness is achieved through subtle variation in the stepped section, shifting room orientation and allowing adjacent rooms to borrow light and aspect from one another.
The outdoor spaces are rooms of equal value to their interior counterparts. Their interconnectedness layers a diversity of activity and inhabitation throughout the site. Crafted domestic moments and material celebration are dedicated to niches, corners and walls. This house invites a rich life."
Year Built:

2020

Type:

Residential

Country:

Wurundjeri

Photographer:

Rory Gardiner
Awards:

2021 Victorian Architecture Awards: The Harold Desbrowe-Annear Award for Residential Architecture – Houses (New) : Named Award

2021 AIDA Awards: Residential Design : Commendation

2021 Houses Awards: Garden or Landscape, in collaboration with Peachy Green : Winner

2021 Houses Awards: New House over 200m2 : Joint Winner

2022 Dezeen Awards - Urban House of the Year : Winner
Back to Top