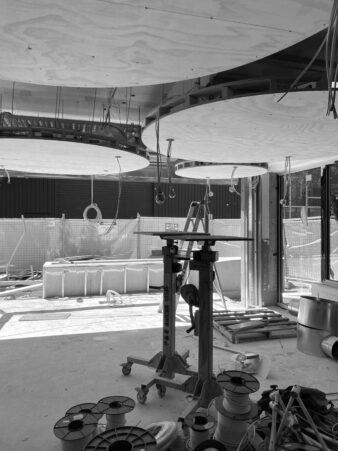 Monash Robotics Lab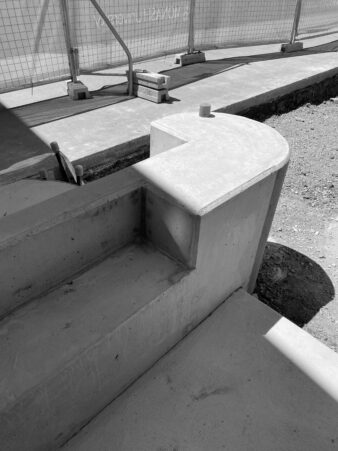 Monash Robotics Lab
Project info:
Monash University has engaged Studio Bright to design a new Robotics Laboratory for the Faculty of Engineering. This project combines existing research undertaken across various faculties, departments and locations into a single purpose-built facility that supports multi-disciplinary collaboration with a main thematic focus on the interaction of humans and robots. These new facilities will significantly enhance the breadth and scope of robotics research that can be undertaken by Monash University.
The design is a reworking of the ground floor of an existing building, with a new activated interface along the pedestrianised 'Alliance Lane'. A fluted awning protects the more open glazing, as well as providing covered informal external breakout spaces along the laneway edge. The large double-height shed at the rear of the site becomes a new experimental laboratory that is opened-up, forming a closer relationship with the Engineering Courtyard beyond.
Consideration of opportunities for civic contribution is explored as mutually beneficial to both the Robotics Platform and the engineering precinct. On the one hand, allowing improved public realm environments with better pedestrian connections, views and spaces to inhabit adds to the amenity of the whole precinct. On the other hand, views into the facility place emphasis on displaying the research being undertaken, invite the interaction of passers-by and enhance the visibility and prominence of the Robotics Laboratory on campus.
Internally, Studio Bright put forward a proposal to cluster the academic offices in groups of two distributed through the space allowing better connection between academics and their students. In addition to this, we proposed to consolidate shared facilities to allow maximum flexibility within the workspaces. Finally, a range of informal spaces supporting the core functions are provided, establishing an environment of collaboration and cross-disciplinary interaction.
---
Jury comment for the 2022 Dulux Colour Awards: Australian Grand Prix:
"On a purely aesthetic level, the specified palette is refined and elegant, particularly the captivating play of vibrant shades with more subtle hues against natural materials. When considered within the context of a science laboratory on an educational campus, however, it becomes utterly striking for its unexpectedness. At this level, the architects' intent is to be applauded, for it stares stereotypes in the face and demonstrates the value of originality."
Year Built:

2021

Type:

Public & Educational

Country:

Bunurong

Photographer:

Rory Gardiner
Awards:

2022 Dulux Colour Awards - Australian Grand Prix : Winner

2022 Victorian Architecture Awards - Educational Architecture : Commendation

2022 Victorian Architecture Awards - Colorbond Award for Steel Architecture : Commendation

2022 Dulux Colour Awards - Commercial Interior - Public and Hospitality : Winner

2022 Australian Interior Design Awards - Best in State Commerical Design : Winner

2022 Australian Interior Design Awards - Public Design : Winner
Back to Top